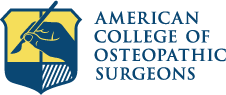 2021 General Surgery In-Depth Review Seminar
2021 GENERAL SURGERY IN-DEPTH REVIEW SEMINAR
PROGRAM OVERVIEW
The Program Chairs for the American College of Osteopathic Surgeons' (ACOS) 2021 General Surgery In-depth Review VIRTUAL Seminar (IDR) – Hania B. Bednarski, DO, FACOS, and Annika C. Storey, DO, FACOS, along with the full support of the ACOS In-depth Review Committee developed a first-rate board exam review course.
IDR sessions provide a deep dive into the topics covered in the American Osteopathic Board of Surgery (AOBS) and American Board of Medical Specialties (ABMS) General Surgery certification examinations. Our panel of presenters will discuss the purpose and focus of the exam as well as what examiners are looking for. The intent is to be a thorough review of the examination topics as well as an update for the general surgeon in practice. Participants in this course will find it a helpful experience in preparing for certification or recertification examinations.*
With the weight of the COVID-19 pandemic still upon us, ACOS will continue to keep the health and safety of our members, staff, and the community at large in focus. As such, the 2021 IDR program will be offered in a digital, online format. Launching via the ACOS eLearning Portal on April 28, 2021, registrants of the program will have access to sessions through their ACOS eLearning account for up to 3 years. This means that eligible attendees have the benefit of earning quality continuing medical education (CME) credits and/or preparing for the certification or recertification exams at their pace – Anytime, Anywhere, ACOS eLearning!
* ACOS does not guarantee results on any certification or recertification exams.
LEARNING OBJECTIVES
At the conclusion of this activity, learners will be better able to:
• apply knowledge gained in preparing for board certification or recertification examinations.
• comprehend the indications, techniques, complications, and outcomes presented of various surgical procedures.
• employ techniques described into their surgical practice to improve patient care.