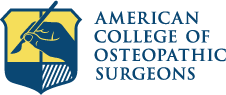 2019 ACOS General Surgery In-Depth Review Seminar Sessions
Each year the ACOS delivers a valuable review of content covered on the AOBS General Surgery Board exams. As in year's past, the program is designed to help surgeons prepare for board certification or re-certification exams. This year all sessions were recorded for your convenience. As a result, you may take the course whenever and wherever you like, because all 51 sessions from this year's Review are now available online!

By accessing this course online, you have the benefit of customizing your board preparation, in your own time, at your own pace.
Sessions included in this bundle:
Tips and Tricks for Passing the Oral Boards
Fluids, Electrolytes, and Nutrition
Trauma Review I
Trauma Review II
Burn Injury
Malignant Melanoma
Ventilator Management and ARDS
Sepsis and Antibiotic Management
Anesthesia and Pain Management
Carcinoid Syndrome
Gastrointestinal Neuroendocrine Tumors
Gastric Cancer
Malignant Biliary Tree Conditions
GIST
Shock and Resuscitation
Thyroid Malignancy
Operative Indications and Challenges in Parathyroid Surgery
Breast Reconstruction
Updates in Wound Care
Esophageal Cancer
Benign Esophageal Diseases
Work Up and Surgery in Benign Esophageal Diseases
Breast 101
Breast Imaging
Benign and Malignant Colon Disease
Diagnosis and Treatment of Rectal Cancer
Benign and Malignant Anal Disease
Screening and Treatment of Portal Hypertension
Polyposis Syndromes
Inflammatory Bowel Disease
Surgical Endoscopy
Benign Biliary Tree Conditions
Malignant Pancreatic Disease
Updates in Gynecological Surgery
Appendicial Disease
Bariatric Surgery Emergencies
Abdominal Wall Reconstruction
Evaluation and Management of Adrenal Tumors
Evaluation and Management of MEN Syndromes
Mesenteric Ischemia
Abdominal Aortic Aneurysms
Diagnosis and Treatment of Venous Disease
Peripheral Vascular Disease
Carotid Artery Disease and Treatment
Sarcoma
Benign and Malignant Hepatic Tumors
Benign Pancreatic Disease
Newborn/Infant Surgical Emergencies
Toddler/Child Surgical Emergencies
Breast Cancer Work Up
Breast Cancer Treatment